As an Amazon Associate, we earn from qualifying purchases. This is without any additional costs for the buyer but does support us in maintaining our website.
A fireplace, also known as a hearth, is a cool way to enhance the ambiance of your digs. It is picturesque and also brings plenty of cheer throughout Christmas. If your house lacks a chimney, you can always opt for an electronic alternative; the electric fireplace. A good example of this would have to be the wall mounted AKDY AZ520AL electric fireplace.
There are available models of wall mounted fireplaces that can heat up quickly. They can also be plugged directly into standard electronic outlets. Furthermore, the heat can be adjusted and regulated just like the fireplace's lights.
Installing the AKDY AZ520AL has its benefits. Traditional hearths usually give off hazardous fumes like carbon monoxide and carbon dioxide. An electronic fireplace is not a pain to clean and much easier to maintain since there are no by-products like ash and soot that you have to get rid of. You also don't have the risk of setting your house on fire because of burning wood chips.
Installing one is trouble-free than a common hearth. The whole process only needs a powered outlet, and you can do the job all by yourself. Lastly, you don't need to hire a professional just to have them transferred to another part of the house.
AKDY AZ520AL Wall Mounted Electric Fireplace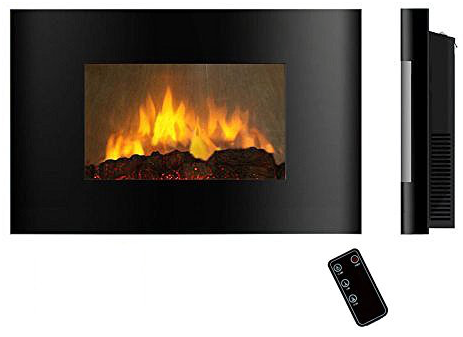 Click Here for Customer Reviews
Specifications
The AKDY AZ520AL electric fireplace is a wall-mounted, bow-fronted electric fireplace with under-bed glow flame effects. It includes a convincing flame image, ember bed and log set and comes with its own remote control as well. This home heater is uncomplicated to use and the remote allows you to control the fireplace's settings with just one push of a button.
This electric fireplace measures at 35.4 inches (length) by 22.1 inches (width) by 6 inches (height/depth). Other specifications of the AKDY AZ520AL are as follows:
750 watt and 1500 watt heat settings
Plugs into a standard 120V outlet
Electric insert/Log sets with 1-year Limited warranty
Adjustable flame brightness
Comes with installation hardware
Log set included
Includes all standard installation accessories
Remote control access
Energy efficient
Features
AKDY manufactures first-rate home improvement items and included on the company's roster is its line of electric fireplaces. People loved the concept of an electronic hearth because not only can such an appliance provide a more cheery and festive atmosphere, it's also mess-free and a snap to maintain.
However, some people have complained that since the AKDY AZ520AL operates on electricity, it can't be used during power outages. Also, the electric systems are considerably steeper than those with common wood and gas systems. This means it can ring up higher electric bills in the long run.
Consumers who have purchased the brand's reviewed product didn't mind the bills though since it's a seasonal item like the Christmas tree; it is after all a product designed for the winter and not something consumers have to use all year round. Winters will be warmer with this baby around to heat the home.
Here are other positive things people have said about the item:
Aesthetics-wise, the model added holiday ambience inside a room. Consumers have praised the AKDY AZ520AL for its appearance; its design, colors, the look of the logs and flames seemed genuine. It has high-quality parts and its LED backlight was a great bonus.
The model was so easy to install, you can do it yourself within minutes. There is no assembly needed to mount it on the wall since it only has one bracket with several plastic anchor screws, which is included in the package.
It is not only designed to stir your senses and spread holiday cheer, it also adds a little warmth in your abode. The model has 2 heat settings and it can heat up a standard-sized room if you choose the High option.
Most electronic fireplaces do not come with their own remote control so the inclusion of one is an added perk. The remote control provided was easy to use and the fireplace itself has cool remote functions that you can play with.
What is an electric fireplace? It is a home appliance that imitates the appearance of a conventional hearth by means of lights and reflectors. They can generate heat through electricity. The light of the hearth is constructed to mimic the gleam and waver of a genuine flame while the imitation logs that goes with the set finalizes the impression of an authentic fire.
In addition, the flames can also be turned off even if the artificial hearth's heating utility is in use. The temperature of an electronic hearth is produced through electricity-generated metal coils. The exterior of the fireplace gets the heat generated through the coils with the use of a fan installed inside the heater.
Pros
The wall mounted AKDY AZ520AL was praised for its realistic simulation of flames and logs and its ability to provide a little heat too. Consumers will also add that it does not have the all-too-common problems one has to deal with a conventional hearth; the act of cleaning and ridding the nook of soot and ashes plus purchase of additional accessories.
Cons
Yes, this electric heater indeed provides a little warmth on those nippy evenings, but if you are looking for something with the same functions as the heater, then you have to look for the latter and not this product. Those who have purchased the item expecting it to function the same way as a standard heater were disappointed. Check out the best space heaters on this page.
Final Verdict
Click Here for the Price!
The AKDY AZ520AL is an interesting item that will add more atmosphere and style to any room in your crib and it might also spark a conversation between strangers at a party, so how beneficial is that? If you are all for looks plus function, then this model is for you.
Consumers have mostly agreed that the simulation looks realistic enough and it certainly adds charm and flair around the house. It's definitely more than just a heater.
Likewise folks who are interested in turning up the heat would have to purchase a separate appliance like a heater.