As an Amazon Associate, we earn from qualifying purchases. This is without any additional costs for the buyer but does support us in maintaining our website.
Keeping the feet, especially the toes, warm and dry during cold winter nights is extremely important. However, it is not exactly the best idea to blow endless heat to your feet as it might get toasted and you will just end up being injured.
With a great ergonomic support, the Ergonomic Heated Foot Warmer by Cozy Products is the ideal partner to keep your toes perfectly warm and dry just the way you want it. It is carefully created to provide ultimate comfort. It even reduces leg fatigue as it improves circulation through warming the feet. As a result, this heated foot warmer is simply perfect for both home and office use.
Cozy Products Ergonomic Heated Foot Warmer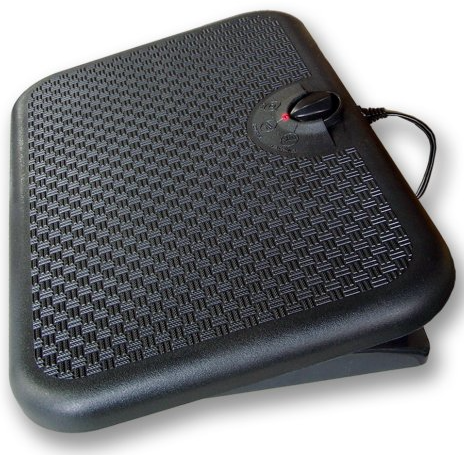 Click Here for Customer Reviews
Specifications
This foot warmer offers a variety of features which make it very likeable and highly efficient. Here are its detailed specifications:
It is an ergonomic heated foot rest
It has an attractive modern design perfect for either home or office use
It features a 90-watt heater which consumes less power usage
It has three adjustable positions to accommodate various standing and sitting positions
It has adjustable heat settings to provide maximum control and comfort
It is energy efficient which saves money and energy while keeping the feet perfectly warm
It is ETL Listed and meets strict safety standards
Measures 12 x 18 x 5 inches
Weighs only 5 ounces but shipping weight is 4.3 pounds
It consumes less energy than any ordinary 1,500-watt space heater yet it effectively warms feet thereby reducing energy loss. In order to save more, the Ergonomic Heated Foot Warmer also has its own thermostat that you can adjust depending on the weather, room temperature, and to your liking.
This product is also ETL listed as it was designed with safety in mind. Consuming only 90 watts, this foot warmer is far safer than other electric heaters today. Another great benefit would be the fact that this can be placed practically anywhere you want it, even in the most cramped under-table office spaces.
Pros
The Heated Foot Warmer by Cozy is currently the number one best seller among home and office footrests and here are some of the reasons why:
It is totally portable and movable
It has an attractive and modern design which contributes aesthetically to either your home or office
It consumes less energy, therefore, more savings for you
It offers utmost comfort with outstanding ergonomics specifically the angled base, thereby, promoting better blood circulation on both legs and reducing leg fatigue
It is perfectly safe to use as it meets strict standard criteria for heated foot warmers
It is easy to set up with clear directions
It is inexpensive
Cons
Practically speaking, there are no real drawbacks for this particular foot warmer model but here are some reminders:
It is made of plastic
You need to use socks to get maximum comfort and benefits
Final Verdict
Click Here for the Price!
It simply could not get any better than this as the Cozy Products Ergonomic Heated Foot Warmer effectively keeps your feet warm while keeping your energy consumption to a minimum. As a result, you get to have the warmth you need at the most comfortable position possible without breaking your budget.