As an Amazon Associate, we earn from qualifying purchases. This is without any additional costs for the buyer but does support us in maintaining our website.
Ideal for heating small to medium sized room, the DeLonghi HMP1500 Mica Panel Heater is an excellent example of designing an efficient heater around its internal heating element. The device uses a new micathermic element to supply constant and silent heating. The design is slender and compact, so it doesn't stick out like a sore thumb, and the device is lightweight enough to be mounted to a wall. The device has a thoroughly modern look, so it looks more like a piece of modern art than a space heater whether it's mounted to a wall or sitting in a corner.
The mica heater offers the user the added convenience of an adjustable thermostat and two heater settings along with a range of safety features. The heater comes with a thermal shutoff, which trips when the device begins to overheat and can help prevent fires and other accidents. The device also has an internal tip-over switch, which will automatically deactivate the device if it falls onto its face. The HMP1500 also has several easy-to-see power and caution indicator lights, so the user will always know if the device is running. An added carry handle and casters makes it much easier to move the device from room to room, and setup is as simple as plugging it in and turning it on.
DeLonghi HMP1500 Mica Panel Heater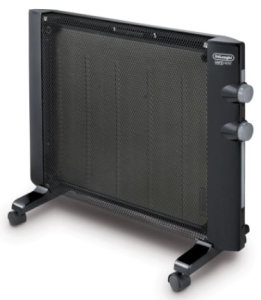 Click Here for Customer Reviews
Specifications
The DeLonghi HMP is a mica panel space heater
Measures 22.5 inches by 27.24 inches by 9.84 inches
Weighs 10.1 pounds
Runs on 1500 watts – 120 volts – 12.5 amps
Metallic black color scheme
Cord length of 72 inches
One year limited manufacturer's warranty
Anti-freeze setting
Automatic safety shutoff
Internal thermostat with timer
Tip-over safety system
Wall-mounting kit included with device
Adjustable thermostat
Two heat settings
Room thermostat included
Minimum heating power 750 watts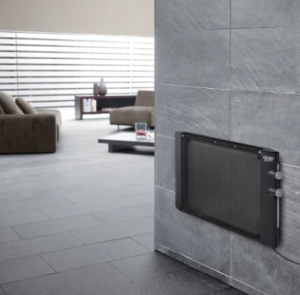 The DeLonghi HMP1500 heater is unique because it uses micathermic technology to provide fast and efficient heating for almost any type of room. The heating element doesn't incorporate a fan or any other moving components, so the device has an almost silent operation. Because the device doesn't produce any added noise, it's an excellent choice for a bedroom or TV room. Many other brands of space heater constantly hum, buzz, and whirl, but the HMP1500 radiates heat into the room instead of blowing it, so a fan is not necessary. The mica-heating element also produces multidirectional warmth, and it helps to ensure that a consistent temperature is maintained in every part of the room it's in.
The device's adjustable thermostat makes it easy to find the right temperature and maintain it throughout the room. Once you've selected your preferred room temperature, the device will automatically maintain it. The heater will automatically cycle through its two heating settings, 750-watts and 1500-watts, until it reaches the desired temperature. Then the device will either shut itself down or activate a low-heat mode to keep the room toasty (more info). The device also comes with a frost-prevention mode that will automatically maintain a room temperature of at least 41 degrees Fahrenheit (temperature conversion). This is a great feature if you plan on leaving home for an extended period of time, but you don't want to leave the heat on and waste energy.
Pros
The DeLonghi is lightweight and can be rolled around easily
The design is sleek and low-profile, so it can be place almost anywhere without becoming obtrusive
The mica heating element reaches a high temperature quickly and efficiently, without using too much electricity to reach its maximum temperature
The adjustable thermostat comes with two heat setting and can be adjusted easily using a knob on the side of the device
The thermal cutoff and internal tip-over switch help prevent accidents and supply the user with an added level of protection is the device is in use around children or pets
The slender design makes the heater ideal for small spaces
The device can be used rolled around on four wheels or mounted on the wall for added convenience
The heater comes with a frost-prevention mode that will keep the internal temperature of the room above 41 degrees Fahrenheit
The DeLonghi is excellent for heating small to medium sized rooms
Cons
The device is designed for indoor use, so it might not effectively heat semi-open environments like garages, sheds, or unfinished basements
The device is not powerful enough to heat large rooms
The heater hums when turned on to the highest setting
Final Verdict
Click Here for the Price!
One of the best modern designs for an electric heater, the DeLonghi HMP1500 gives you full control over a room's air temperature, while remaining at a reasonable price point. The DeLonghi HMP1500 is very popular among reviewers and over 80 percent of all reviews five it a rating of four stars or more. A modern variation on an old space heater design, the HMP1500 is an excellent addition to anyone's home.