As an Amazon Associate, we earn from qualifying purchases. This is without any additional costs for the buyer but does support us in maintaining our website.
Modern living these days means that everything just comes in convenient and more efficient as in the case of fireplaces. For the past years, people have been accustomed to chopping woods and burning logs to warm up a room. Today however, people now have the option to have an electric fireplace in lieu of the logs. Not only does it save time and effort it also is economical and environment friendly.
The DFI2309 Electric Fireplace Insert from Dimplex is one of the most saleable electric fireplaces in its category. Many of its buyers applaud its simplicity when it comes to its function as well as its safe electric operation. No need for logs, just simply insert the appliance and plug it in an electric source. Just that easy!
Dimplex DFI2309 Electric Fireplace Insert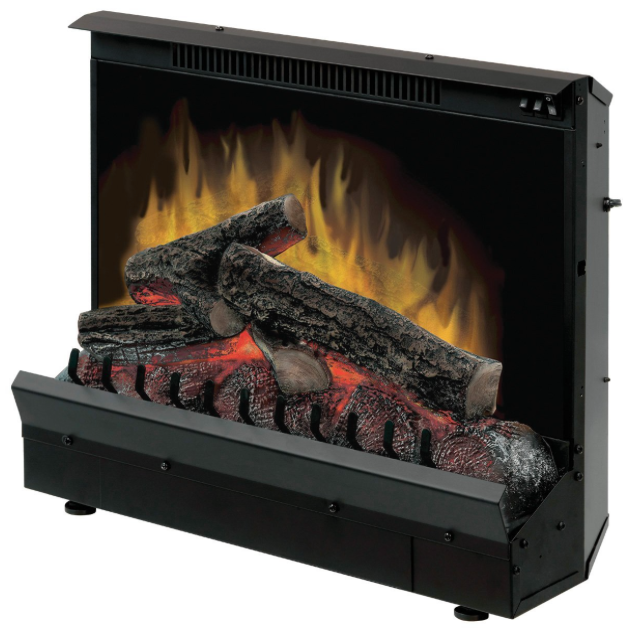 Click Here for Customer Reviews
Specifications
This electric fireplace insert has the ability to heat up a room of about 400 square meters and it's a best appliance to serve as an adjunct to your heating system. Don't worry about your electricity bill because this one's not the thirsty type. Here are the product's technical details:
Power: Electric
Heater Style: Fireplace Insert
Heating Capacity: 400 square feet
Heater BTUs: 4695 BTus
Dimensions: 19.7" x 23.19" x 10.19"
Weight: 33 lbs
Manual Controls
2 Heat Settings (High and Low)
Maximum Wattage: 1375 W
Maximum Amperage: 11.5 Amps
Flame Bed Type: Log Set
Features
What makes this product (one of) the best electric fireplaces? Aside from it being a good adjunct to your heating needs, it also does well when it comes to beautifying your home. It is finished with black matte that suits just to any type of frame you have. It's an insert, so basically you just have to put it in, plug and turn it on.
Listed below are the Dimplex DFI2309 electric fireplace insert's features:
The flame effect is perhaps one of the important features an electric fireplace buyer is looking for. Dimplex' patented flame effects are one of the few that is near to being real. Although it only has one setting for its flame (that just means that it doesn't have any light levels or dimming effects), it doesn't diminish its quality of putting out realistic flames atop of its realistic logs.
The electric fireplace insert's flickering flame effect uses two 60-watt light bulbs places just under the log set so that when turned on it looks as if the flames are stemming out of a burning log.
The built-in fan force heater's fan is mounted on top of its vent for better heat dispersal. It comes in with 2 heat settings and 1 fan speed. Because of its location, heat is released out of the unit from the top for maximal heat dispersion.
With the wattage and BTUs, you can tell that this electric fireplace from Dimplex is a good supplemental source to warm up a 400-square ft room.
Three manual operating switches (on/off, low heat on/off, high heat on/off). These controls are placed just near the heater's outer frame which makes it easy for its users to access. The main switch turns the electric heater's functions and keeps the flames burning even without dispersing any heat. When low heat is chosen, it gives off a fan-forced heat of up to 4,575 BTUs while high heat setting puts out 4,695 BTUs.
Pros
As mentioned earlier, the Dimplex DFI2309 is one of the best products when it come fireplace inserts. Many of its buyers are greatly satisfied at how this electric fireplace effectively provided their space with the warmth they needed as well as the added aesthetics it had brought into their home.
Here are more of the things you'd love about the electric fireplace insert from Dimplex:
Installing is smooth and savvy. The Dimplex DFI1209 comes in with a manual in which buyers can easily follow through. You will no longer have to hire professional services because it doesn't any need any piping or venting.
Moreover, this product has been made to easily fit into just about any size of brick-frame or steel-made existing fireplace, all it needs is just a space where it can get itself snug into.
There is overheat protection. Sure thing, it's an utmost concern for most buyers about the safety of an electric fireplace. When it overheats, its internal safety device shuts its heater fan off automatically and will not emit any heat until you have power manually reset.
Unlike other electric fireplaces, the only maintenance you have to do to keep the DFI2309 running smoothly is to clean its glass surface periodically with a dry cloth. Replacing the two 60-watt bulbs will likely lengthen its life as well especially when you see dark sections from the flame.
It operates with or without heat. More than a space heater, it is also a good focal point or an addition to your home's overall design. Regardless of the weather, you can still have this electric fireplace working minus the heat – just the flames for a cosier ambiance.
Cons
When you try to review a product, you will not only see its best features but also the not-so-good ones that might make you pause and think whether this product really delivers.
Here are some of the issues about the Dimplex DFI2309. Heating function is just enough but is not exceptional. If you are buying a product, high expectations always come along with it. As with this space heater, it just delivers average not totally outstanding.
There are also minimal control options. Unlike other electric fireplaces wherein you can adjust the lighting of the flames or adjust the thermostat of the heat, this space heater from Dimplex only offers basic functions something that most buyers would want for more.
Final Verdict
Click Here for the Price!
Beauty wise, the Dimplex DFI2309 electric fireplace insert can be a stunner and will really add elegance to just any space in your house. Convenience, practicality, eco-friendly are also some of the best features of this electric fireplace. If you are looking for a good supplemental heating appliance, this electric fireplace insert from Dimplex can be a good choice.