As an Amazon Associate, we earn from qualifying purchases. This is without any additional costs for the buyer but does support us in maintaining our website.
This Duraflame DFI-550-0 infrared fireplace stove adds ambiance, appeal and warmth to any area in your home. This fireplace comes with a picture window type door with a curved frame outline completed with a vintage look of a genuine wood door handle.
The real-looking flame effect can be used with or without heat any time you want, and is enhanced by the ember bed and the glowing logs. A 5,200 BTU infrared heater makes heating the area really easy and it can heat up rooms approximately 1,000 square feet.
The DFI-550-0 infrared stove is a beautiful heating unit that is like a work of art. It has the ability to simulate flame and heat with an unbelievable precision. The authentic fire flames fixed against the LED logs that occasionally ignite provides a realistic effect to the equipment.
Duraflame DFI-550-0 Infrared Fireplace Stove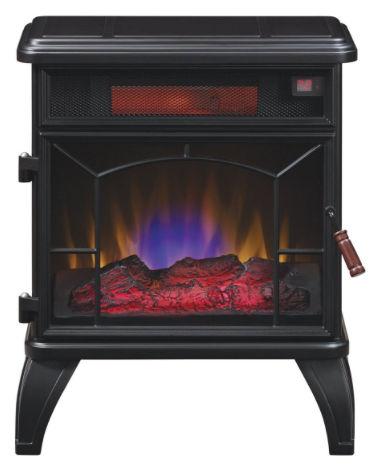 Click Here for Customer Reviews
Specifications
An electric fireplace like the Duraflame DFI-550-0 can be described as novelty electric heater that is made to replicate a standard wood, coal or gas burning fireplace. They are found in a regular fireplace store and in online stores. They are displayed alongside the modern types of fireplace stoves. No wonder they are now a winter staple in many homes, as they can conveniently heat up a large room.
Now is the time to add a touch of class to your place with the Duraflame infrared fireplace. It is the most ideal accessory for your home. This kind of unit boasts a traditional design that can complement just about any kind of decor.
Given below are some of the specifications of the DFI-550-0 Duraflame electric stove:
Remote controlled
No need for gas lines or venting
Adjustable thermostat
Digital screen fades away when not being used
Black metal frame with authentic wood door handle
Maintains a safe, steady heat without minimizing humidity or oxygen
Realistic ember bed and resin logs
About 30 minutes up to 9 hour timer
Energy saving LED flame effect technology
Infrared heating offers supplemental heat for approximately 1,000 sq/ft
Perfect for apartments, lofts, condominiums or single homes
Height: 26.77 inches
Width: 20.98 inches
Depth: 14.37 inches
Features
The DFI-550-0 infrared fireplace stove is much safer than its wood or gas heating counterparts. It can provide up to 5,200 BTU of heat without releasing dangerous fumes from wood or gas. The unit is also suitable for people who have allergies and are unable to enjoy real wood fires because of the smoke. Moreover, it makes no mess, so it is practically maintenance-free. This fireplace stove is beautiful, safe and good for the environment.
Infrared Technology – The infrared heating technology of the Duraflame stove is a great solution for giving efficient supplemental heat to a room. Its infrared feature creates just the right heat while keeping a surface that is cool-to-the-touch, which makes it safe for usage even around young children and household pets. This infrared heater is not only incredibly efficient but also cost efficient as well. It is easy to put together and is quite light that you can easily move it from one room to another. Simply plug it into a standard outlet and it is good to go.
Green Technology – If you are gearing toward an eco-friendly lifestyle, a good start is buying an energy-efficient item like the Duraflame DFI-550-0. It uses significantly less energy than any gas or wood burning system. There is little doubt that this infrared unit is the kindest to the environment, making it the ideal choice for your home.
A Perfect Fit In Your Home – If you notice the displays in a fireplace shop, you will see that most electric powered fireplace stoves fit seamlessly in almost any room. They are available in a few different sizes, including long-legged mantels and full floor units. The DFI-550-0 infrared fireplace stove is another variety that looks quite charming as it illuminates a room.
The Duraflame fireplace stove also has the appearance of a genuine fire, without burning trees. This helps preserve a very limited resource that people should not waste. In addition, the absence of combustion signifies that no harmful greenhouse fumes are released into the surroundings.
Pros
A lot of users claim that the Duraflame DFI-550-0 infrared fireplace stove is much more versatile compared to the regular gas or wood burning systems. They are happy to add that this heating component is adjustable and can be turned off. The unit provides a gentle illumination to add spice to an intimate summer night minus the problem of too much heat.
It is also portable, which requires only an electrical socket. Aside from that, it does not need chimneys, so no need to remodel your place in order to install them, and it does not require venting. Overall, the unit is simple to assemble and works really well. And, it is fairly quiet too.
Cons
Of course, there are a few things that users have encountered with this fireplace stove that should also be considered if you are planning on buying one. Some users thought that the DFI-550-0 infrared fireplace stove may start a fire in case it falls facedown. Another negative comment is that a few parts look somewhat cheap.
Final Verdict
Click Here for the Price!
The infrared fireplace stoves are new types of heating units that have become extremely popular in the market today due to their unique features and characteristics. These are electric fireplaces that appear to be genuine wood burning fireplaces but are powered by electricity. With the Duraflame DFI-550-0 infrared fireplace stove, you can forget about maintenance, chimneys and expensive gas lines. No more worrying about smoke or sparks. You do not have to bring in wood and clean the ashes afterward. This infrared stove is 100% energy efficient that provides supplemental heat.
This is clearly a winner as it is a beautiful unit, which acts as a home decoration. Whether you want only to chill off a room and just like watching the relaxing flame effect, you will appreciate more the appealing comfort of an infrared fireplace stove. It is the perfect economic zone heating option that you can use in your home.