As an Amazon Associate, we earn from qualifying purchases. This is without any additional costs for the buyer but does support us in maintaining our website.
Engineered to be powerful yet quieter than conventional fans today, the Dyson Air Multiplier AM06 table fan uses a brushless DC motor that generates a powerful airflow yet consumes 30% less energy.
Dyson was able to provide a more efficient design without sacrificing any of the unique appeal that gave them a name in the fan industry. But this time with AM06 model, they were able to make it surprisingly luxurious that critics now refer to it as an impressive spectacle to behold despite being just a table fan.
Dyson Air Multiplier AM06 Table Fan
Click Here for Customer Reviews
Specifications
Gaining pretty significant improvements over its predecessor, the Dyson AM06 air multiplier table fan is now 75% quieter and more efficient. In fact, the Noise Abatement Society already awarded this the Quiet Mark which is an award given to noise-conspicuous products only. Dyson also claims that this improved air multiplier table fan consumes at least 30% less energy than the former model.
In addition, the Dyson AM06 gets a new and stylish remote control and a vanishing LED display in front which make it look even more gorgeous. However, despite all these new improvements, this remains with the patented Air Multiplier technology which is responsible for the extremely powerful airflow projection.
Here is the complete list of specifications of this incredibly great table fan:
Air Multiplier Technology
Streamlined Air Channels
No Blades
No Choppy Air
75% Quieter
More Energy Efficient
Sleep Timer from 15 minutes to 9 hours
10 Speed Settings
Digital LED Display
Oscillation Control
Full-Function Remote Control
Patented Dyson Technology
Touch Tilt of 10 degrees Either Way
Pros
From careful and intelligent engineering to attention grabbing aesthetic design, the Dyson AM06 continues to capture more and more hearts of customers who want a different kind of table fan. This is in no means ordinary from the ABS plastic but durable construction and up to the silent and perfectly smooth oscillation and air delivery.
With a 4.5-star rating at Amazon after almost 100 real customer reviews, there is no doubt that this AM06 air multiplier table fan from Dyson is becoming the more popular choice. Check out these amazing features:
It features the Dyson Air Multiplier Technology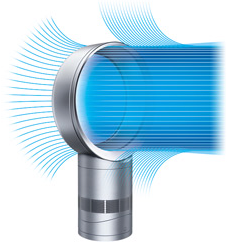 You have probably heard this but never really understood the principle behind it. Being famous for constant innovation to make things work better, Dyson invented the air multiplier technology which is responsible for the powerful airflow projection but without the chopping blades we normally see in a table fan.
Air is supposed to be drawn in at the base of the machine where it is accelerated through a 2.5 mm annular aperture which generates the high-velocity jet of air. This then passes over an airfoil-shaped ramp that channels the direction and creates low pressure areas behind and around the fan.
This process is also called inducement and entrainment which makes producing a powerful stream of smooth cool air possible even without presence of chopping blades.
It is quieter and more energy efficient
The AM06 is regarded to be 75% quieter than its predecessor because of the streamlined air channels that totally reduce airflow turbulence, hence, the extremely quiet operation. Motor noise and vibration are further isolated through the use of an acoustically engineered motor casing that reduces noise which is called the Helmholtz cavity (wired).
As far as energy efficiency is concerned, less energy is required by the AM06 because of the overall smoother airflow. Thus, the motor can run slower yet deliver the same powerful airflow.
It is safe and easy to clean
How many times have you almost had a heart attack because of active toddlers trying to play with the table fan? With this AM06 air multiplier table fan from Dyson, there are literally no fast-spinning blades and no awkward safety grilles which offer absolute safety even with kids running endlessly around the room.
In addition, cleaning table fans has never been this easy. This AM06 air multiplier table fan can be cleaned with just a single wipe of a cloth.
Cons
Most consumers who have already bought this say that it works excellent but they just could not give it a perfect 5-star rating because of its expensive price as it currently sells a little over $200. Some say that you can already get a mediocre air conditioner for that price. However, what one must remember is that you really do not need an air conditioner all the time especially at home. There simply are those times that a table or ceiling fan can do the job and besides, it is more energy efficient.
Final Verdict
Click Here for the Price!
The Dyson AM06 air multiplier table fan features the elegant technology that the brand has always been famous for. It is remarkably gorgeous and efficient in more ways than one. It has got no moving parts yet air circulates more smoothly than a normal table fan with ordinary fan parts.
If you have a taste for elegant and highly efficient things, then give this AM06 Air Multiplier Table Fan of Dyson a try. You would not be disappointed as it has proven over and over again that it is an excellent and reliable device.
More reviews of heating and cooling solutions on: heatingcoolinghome.com.