As an Amazon Associate, we earn from qualifying purchases. This is without any additional costs for the buyer but does support us in maintaining our website.
Air conditioning units provide comfort inside the home, especially during hot days. Units like LG's window-mounted air conditioner gets rid of the heat that is produced inside a house or a room and sustains its temp by 20 degrees Celsius. In addition, its system also gets rid of superfluous moisture from the air and takes away airborne impurities.
What makes this particular AC model tick? Let's find out by way of this article.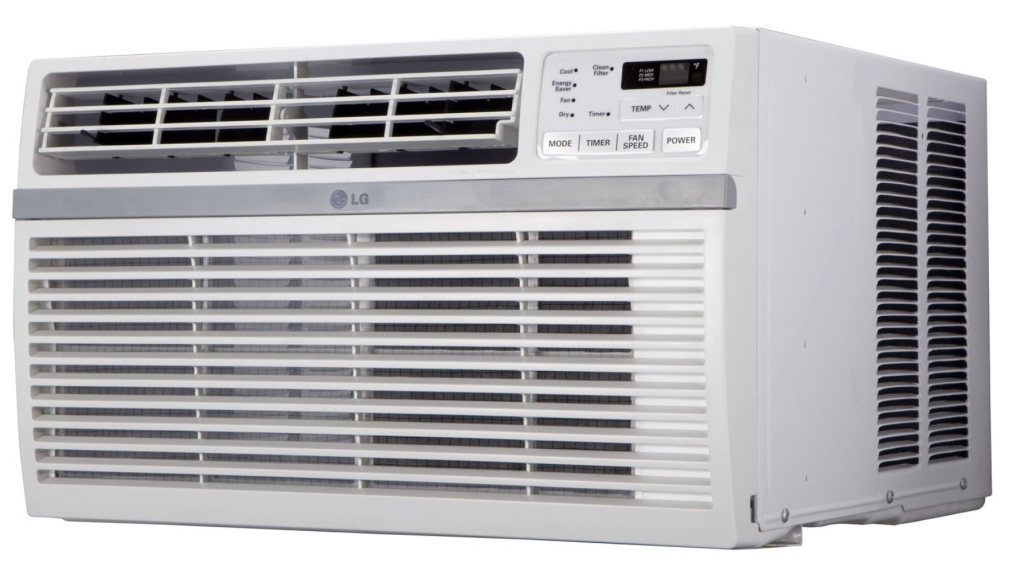 Click Here for Customer Reviews
Specifications
Now you can stay fresh and cool during the summer and hot spring nights by way of this model. It has environmentally conscious R-410A refrigerant and features an Energy Star rating so you can save on energy bills and get comfortable simultaneously.
This window mounted air conditioner has a width of 19 11/16 inches and a height of 14 11/16 inches. It weighs 65 pounds.
Other specifications are as follows:
10,000 BTUs
3 EER
2 CEER
0 pints per hour dehumidification
300 CFM
52/58 Indoor and Outdoor dBA level
880 Watts
1 Rated amps
1-year Limited warranty
Features
LG Electronics Inc. started in 1958. It manufactured the country's first radios, televisions, fridges, washing appliances and air conditioners. It has since expanded throughout the world because of its innovative ways and has made public new products apart from its initial offerings like mobile devices and digital televisions.
One of LG's most popular products is its line of air conditioners. The LW1015ER is an Energy Star-approved model that's perfect for folks who are into "green" devices and sustainable living. This window-mounted unit will suit bigger rooms since it can cool an area that measures up to 450 square feet. It features advanced energy-saving functions that promises to operate efficiently while keeping your energy bills low.
The unit also features an energy-efficient ratio of 11.3 and has a 24-hour programmable On and Off timer. Other than its cooling functions, it has dehumidification options of up to 3 pints per hour. Its accompanying thermostat guarantees that the temperature you chose is maintained securely and its remote control makes setting and controlling the entire system easier and more straightforward.
Other features include 4-way air deflectors and easy-to-maintain mesh filter with a Clean Filter notification.
Pros
Consumers who have purchased the model were very satisfied and stated it's the best window mounted air conditioner they've had. One user said that it has managed to cover an area measuring 600 square feet time after time. Another said he was pleased to know that the AC system has an 11.3 energy efficiency ratio and noted the positive impact it did on his electric bills; it indeed did not pose a threat on energy consumption so the model's claims of being energy-efficient did really well.
A buyer said that the model felt strong, heavy and bigger as compared with other models with 10,000 BTUs. He added that the 11.3 EER added plenty of points to the unit and it drew less than the specified 880 watts; it drew around 750-840 watts instead. Meanwhile, its directional vents meant for air circulation performed excellently, and it was small enough that no bigger debris can get in.
The easy access to the model's air filter was an added plus as well, one consumer remarked. The same consumer also added that the remote control worked nicely and its automatic settings and Clean Filter alerts were a blessing.
As for the noise it makes, most users agreed that the model was relatively quiet at low speeds.
Cons
One downside of the model was its weight. Installing can be a bit bothersome done all by yourself, so you have to ask another person to help you with mounting the device. You also have to guarantee that you have installed the unit properly so it won't drop out of its position.
One user made a comment that the unit had loose screws and that he had to spend some time assembling the entire unit before he could install it. Please read the user's manual before installing the air conditioner.
A few users have criticized the noise the unit made. One said that the model can get especially noisy in muggy conditions with the water splashing about but then he added that this minor irritation contributes to the model's overall cooling and efficiency so he was able to tolerate the noise.
Final Verdict
Click Here for the Price!
Folks who bought the product easily tolerated the few complaints made; overall, it was an excellent buy/investment. If you need an Air Conditioner that works great and is safe for the environment too, the LG LW1015ER will definitely fit your requirements.