As an Amazon Associate, we earn from qualifying purchases. This is without any additional costs for the buyer but does support us in maintaining our website.
Experts have been repeatedly saying over the recent years that if you want long-lasting and rather inexpensive heat, you have got to try oil-filled heaters. Yes, they may not be as technologically advanced as ceramic heaters but that does not make them less of a performer especially during the freezing months of the year.
What are Oil-Filled Heaters?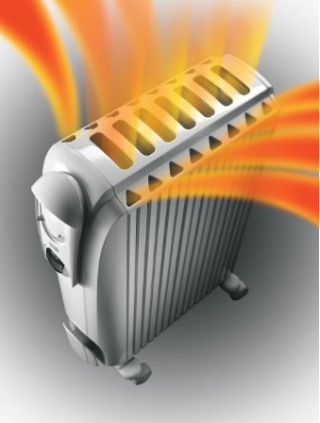 Oil-filled heaters have long been an excellent supplemental heat source of warmth. They are relatively known as safe and effective yet inexpensive. They are easy to use and provide that kind of comfortable warmth that we all crave during winter.
Basically, this type of heater works in a way that it uses a special heat-conserving oil that would never have to be replaced no matter how long you have been using it. This special oil then circulates throughout the coils of the radiator. This is how the machine easily heats up and how the whole system is able to transmit and spread warmth. This is called convection heating. It is commonly used from small to large areas depending on the heater's given capacity.
Given the fact that the special oil is heated, there are no fumes or flames and no fans which equate to quieter operation. In addition, it does not need high maintenance and the fact that it continues to provide warmth even after it has been turned off makes it a popular and preferred choice by practical consumers today.
Most oil-filled heaters are compact in size making them easy to fit even in small spaces and perfect for those who have small rooms or live in small to medium-sized apartments. Experts think that this type is most ideal for living rooms and bedrooms. To top all these, oil-filled heaters are also portable making them easy to move in between rooms and basically where you need the warmth to be.
The Special Oil
Most oil-filled heaters today make use of a special kind of oil called diathermic oil which makes it more of a superb heat reservoir. This oil, in general, has a high specific heat capacity and high boiling point. In fact, diathermic oil's boiling point is three times higher than water. With these two main characteristics, it is able to produce and store more heat without reaching the boiling point right away as what would usually happen with water.
Because of this, it is also able to continue radiating more heat even after it has been turned off. Therefore, this saves energy consumption as much as possible.
The Advantages
If you are still a bit hesitant about oil-filled heater or probably torn between the ceramic heaters and this, here are some of the known advantages that await you if you are to get an oil-filled heater:
Oil-filled heaters are almost totally silent. This is because they do not make use of a fan or anything that would make any kind of noise. If there is a noise that this type of heater produces, it would only be the clicking of the thermostat adjustments or some minimal popping and crackling as when the oil and metal starts to warm up.
In contrary to what others think about heater fans, truth is that it actually dries out the air making persons in the room feel more uncomfortable.
More than just providing heat after the system has already been turned off, oil-filled heaters, just like other electric heaters, are very energy efficient. However, remember that this type lacks fans, therefore, saving you even more.
Thermostat adjusts automatically
You have probably heard this feature from your air-conditioning system. Do you remember how your sales agent explained to you how automatically adjusting thermostat helps save you energy? Same principle goes with oil-filled heaters. They automatically cycle on and off to maintain the ideal warmth and at the same time, prevent overheating and eventually save electricity as well.
There is no need for oil replacements
The special kind of oil that is used in oil-filled heaters is not used as fuel. It is only there to help serve as a part of the whole heating system. Therefore, it will never run out which eliminates the need to replace it.
Most modern designs of oil-filled heaters today are lightweight and can be easily moved from one place to another. Most are even small enough to fit in tight spaces where other heaters would not usually fit.
The Additional Features
Oil-filled heaters are generally easy and safe to use which is why they are getting more and more famous. They are literally hassle-free to use yet work so efficiently. Once you have decided on oil-filled heaters, here are some of the additional features you might want to check:
Additional safety features
While this type of heater is generally known to be safe, it would still be wise to check if it has some sort of overheat protection and of course, tilt switches which should automatically turn it off should anything happen to the unit. A great example of such is the NewAir AH-450B electric oil-filled space heater which has both tip-over safety switch and automatic shutoff.
Check if it releases any gas or fumes
Technically, oil-filled heaters should not release any sort of gas or fumes. If your pick does, then you should look for others. A great model to check would be the DeLonghi EW7707CM Safeheat 1500W ComforTemp Portable Oil-Filled Radiator.
Special oil is entirely enclosed
Exposed grilles or vents do not just pose safety concerns but it also paves way for dirt and dust to enter the system which then increases risk for air flow blockage through the intake and outtake vents. A great example of an oil-filled heater where the special diathermic oil is permanently sealed is the Optimus H-6003 Portable Oil Filled Radiator Heater.
Check the surface if it gets too hot to handle
If you happen to have kids or pets or planning to have one, the more you must make sure that your oil-filled heater's casing does not get too hot to touch. Check the DeLonghi TRD0715T Safeheat 1500W Portable Oil-Filled Radiator with Vertical Thermal Tunnels which maximizes radiant heat flow while maintaining a low surface temperature.
Oil-filled heaters hardly give any problems in the system itself. It basically requires very little in the way of maintenance and/or service yet delivers excellent efficiency. The most common thing would be faulty wiring or bad power switch which is why you should also check those when you regular maintenance checks.