As an Amazon Associate, we earn from qualifying purchases. This is without any additional costs for the buyer but does support us in maintaining our website.
The Pioneer WYD012AL3JAR-L Ductless Mini Split Air Conditioner Heat Pump 12,000 BTU (1 Ton) is just one of Pioneer's takes on ductless air conditioning units but it definitely is a very good one.
Some people think that split air conditioners are very hard to install. This ductless Pioneer WYD012AL3JAR-L mini split air conditioner, however, will make you change your mind. It is actually easy to install. All that one needs to do is follow the clear instructions in the manual that is already included. After installation, one can marvel on the efficiency and quietness of yet another great product from Pioneer.
Specifications
While it is no secret that split air conditioners are more expensive than portable or window type ones, they do come with a long list and wide variety of great specifications that only this type can do. This Pioneer WYD012AL3JAR-L sells at around $750 but you can find it commonly on sale at Amazon for around $650 only.
If you are still wondering why this cost more, it is ductless which means they avoid the energy losses that are likely to occur with air conditioning units that have ducts. Are you even aware that you are bound to lose at least 30% energy consumption if you are to use an air conditioning system with ducts?
To know more why you are still bound for more savings despite what seemed to be a more expensive price, here are the full specifics of the Pioneer WYD012AL3JAR-L:
Mini Split Ductless Air Conditioning and Heating System
Ultra Quiet Operation
Superior Efficiency
12,000-BTU per hour
Attractive Appearance
110-120 Volt VAC Standard Household Power
13 SEER High Efficiency Rating
Has ETL and CSA Approvals
Comes with Easy Installation Kit
Has a 16-foot Length Line Set
Highly suitable equipment for additions, conversions, and ultimate independent zone control
Easy Installation
Heating and Cooling System
Includes Full Access Wireless Remote Control
4 Operating Modes – Cooling, Heating, Dehumidification, and Ventilation
Automatic Switchover Mode
Timer Function
Night Mode Function
Auto Restart Function
Automatic Swing Discharge Air Louver
Measures 42 x 24 x 43.5 inches
Weighs approximately 130 pounds
Pros
The Pioneer WYD012AL3JAR-L mini split air conditioner is definitely one of the best there is today. It is so effective in not just cooling and heating but also in dehumidifying as well. This is the probably the main reason why customers are so amazed and satisfied with this product. It stays true to its description and even performs better than as expected.
Here are some of the helpful features that make the Pioneer WYD012AL3JAR-L simply the best:
It allows better management of electricity consumption
We have already talked above about the energy savings that you are bound to get with ductless air conditioning units. More than that, you can even save more with this product because it comes with a timer and night mode function.
If the weather is already cool and comfortable, you can set the air conditioner up and running for about 4 hours until you are in deep slumber before going off. That way, you definitely save more compared to those without a timer and would have to let the air conditioner run for as long as they are asleep.
It has adjustable settings
In every air conditioning unit today, what is important are the features and if possible, adjustable settings. This is simply because each member of the household has different levels of tolerance when it comes to coldness and warmness.
It is said that for those summer days, the cool mode should be chosen. For those days when it is not exactly cool or hot but you need some sort of healthy air to circulate around, then the ventilation or dehumidification feature is a great option.
It is easy to install and use
It comes with its own manual and installation kit. Technically, one does not really need to hire a professional to install this. It can be done by anyone for as long as you follow the instructions on the manual.
Using this ductless Pioneer WYD012AL3JAR-L mini split air conditioner is another easy thing to do. You can get yourself familiar with the uses and features as is carefully explained in the manual.
Cons
While there is no doubt that this is a great air conditioning unit, there are some things that customers or technicians have pointed out which could be of great help to all would-be buyers of this Pioneer WYD012AL3JAR-L.
For those who plan to install this unit by themselves, you have to be familiar or at least try to familiarize yourselves first with a vacuum pump. Now while some attest that this can be successfully installed without a vacuum pump, it should not be the case as you might end up damaging the system.
Another thing that should be considered is buying a surge protector since electrical technicians say that all ductless split systems are very voltage sensitive.
Final Verdict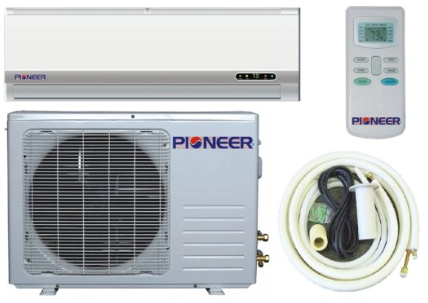 Ductless mini split type air conditioners are preferred because of their simplicity, versatility, and practicality making it the system of choice of customers from all over the world. Pioneer, on the other hand, have made a name for themselves with regards to ductless mini split air conditioning systems through their excellent performance and quality.
As most satisfied customers say, if it is ductless air conditioning system you need, then you have to look no further than the Pioneer WYD012AL3JAR-L ductless mini split air conditioner heat pump 12,000 BTU (1 Ton). In fact, this is probably the only air conditioning unit you will ever need as it is extremely efficiently, operates quietly, and even energy efficient.
Installation of a mini split air conditioner can be done by yourself if you have the knowledge or you can call your local AC installer to do it for you. See the youtube below for detailed instructions of a typical mini split AC.