As an Amazon Associate, we earn from qualifying purchases. This is without any additional costs for the buyer but does support us in maintaining our website.
If you are looking for top of the line portable comfort from an extraordinary air-conditioner, look no further because the Soleus LX-140 14,000 BTU Portable Air Conditioner is as efficient as it can be.
Possibly the perfect companion during the hottest days of the year, this portable evaporative AC not just perfectly cools medium to large rooms but it even comes with four functions – air conditioner, heater, dehumidifier, and fan.
Soleus LX-140 14,000 BTU Portable Evaporative Air Conditioner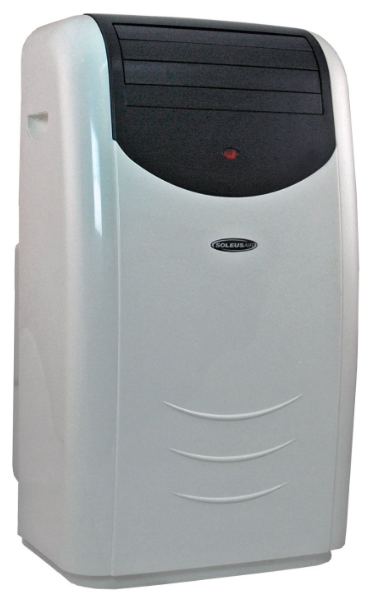 Click Here for Customer Reviews
Specifications
With the main goal of providing utmost convenience to homes and offices, Soleus Air continues to become the top supplier of portable AC throughout the United States. You actually might have used it once before as they used to come under different names before they finally chosen to be called Soleus Air.
Known for unquestionable reliability and dependability, they have offered nothing but the best in terms quality and innovation. From their broad line of portable air conditioners, this Soleus LX-140 Portable Evaporative AC with Heat Pump stands up because of its cooling and heating capacity.
The evaporative technology is another thing that truly sets this apart from competition. Check out its specific details:
4-in-1 Technology
14,000 BTU
3 Fan Speeds
Fan-Only Option
Heating Capacity of 14,200 BTU
Dehumidifying Capacity of 65 pts/day
Adjustable and Automatic Air Louvers
Comes with Air Filter
LCD Display Type
Cools, heats, dehumidifies, and ventilates
Cooling capacity of up to 525 square feet
Remote Control Operation
24-Hour Programmable Timer
Automatic Defrost
Multi-color VFD Display
Auto-Evaporative Technology
Uses Eco-Friendly R-410A
Requires 115 volts
Airflow of 225 CFM
Cooling Operating Temperature of 60.8 to 107.6 degrees Fahrenheit
ETL Certified
Pros
Probably one of the most versatile if not the most versatile portable evaporative AC today, the Soleus LX-140 14,000 BTU air conditioner is truly considered by experts as one of the most powerful and efficient models today.
It offers more than just comfort. Soleus offer innovation that resulted from years of their never ending research to make every day better than yesterday.
It has a multifunctional design
Developed by genius minds behind Soleus Air, this LX-140 AC can effectively and efficiently provide four functions (manual). Thus, eliminating the need to buy four separate devices and saving you time, energy, and money.
Because this device can deliver 14,000 BTU, it can efficiently cool rooms sized anywhere between 400 to 525 square feet. Come winter, you can still use this to provide warmth because it has a 14,200 BTU capacity. For those days when humidity is at its best making everyone feel uncomfortable, this can help remove up to 60 pints of excess moisture to keep everyone feeling refreshed despite the weather.
For those days when it is neither cold nor hot, one can resort to the fan-only mode which releases a simple, cool breeze to make sure there is fresh air circulating around the house. And for those nights when one cannot decide what temperature to choose, simply put it in auto mode and it will automatically select the appropriate temperature depending on the room's current temperature.
The sleep mode is most especially helpful for those who wants to have comfortable cold air through the night but still wants to save money.
This eliminates the need to empty water tanks
Boasting of an auto-evaporative technology, the Soleus LX-140 already includes a built-in 65-pint dehumidifier. The collected moisture is then recycled and eliminated through the exhaust duct.
But for those days when humidity is just too much, this device comes with an emergency holding tank with drainage port. This is located at the back of the device and is responsible for preventing potential water spillage to your delicate floors or expensive carpeting.
It is energy efficient
The Soleus LX-140 portable evaporative air conditioner comes with a dual motor design. Because of this, one motor effectively cools the air while the other motor cools the condenser and compressor to make sure they will not overheat and efficiency of the device is maintained at all times.
In addition, there are non-corrosive aluminum fan blades that make sure that the collected condensation is distributed over the condenser. This ensures that the copper coils cool properly the way it should.
Cons
The Soleus LX-140 AC works great but there are customers who say that this is sometimes loud and would have been better if it was quiet throughout the time it is turned on. Customers who have had years of research and experience behind them know for a fact that the sound of this device is perfectly understandable given its mighty power.
Another thing though is that the hose could have been longer. What you can do here is anticipate this and get a hose extension kit in advance.
Final Verdict
Click Here for the Price!
If you are looking for a powerful but affordable portable AC unit, the Soleus LX-140 14,000 BTU portable evaporative air conditioner with heat Pump is a wonderful choice. What makes it even better is the fact that you would never have to worry about messy and dangerous water spills for those times you forget to drain it.
With several operating modes, this could be the only air conditioner that you need regardless of season and temperature.
Read more reviews and advice on HeatingCoolingHome.com.