As an Amazon Associate, we earn from qualifying purchases. This is without any additional costs for the buyer but does support us in maintaining our website.
This Thermocore Systems T123S-H112 is a ductless mini split air conditioner with a 12,000 BTU cooling system. That alone saves you as much as 30% energy. But Thermocore did not stop at that. They pushed their limits further by making it a DC Inverter air conditioner which is now regarded as the ultimate cooling and heating technology in the HVAC (heating, ventilating, and air conditioning) field.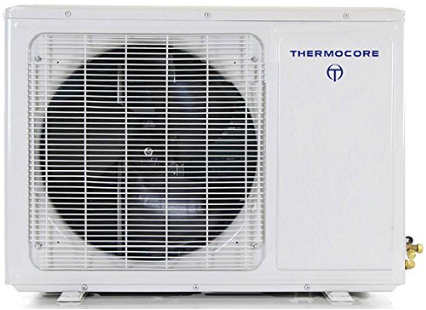 Specifications
Thermocore has always been a great company that continuously produces innovative and energy efficient products. The Thermocore Systems T123S-H112 mini split air conditioner system with heat pump just goes to prove this once more. It performs exactly as advertised and is highly recommended by anyone who has tried using it.
Here is a complete list of the specifications of this Thermocore Systems T123S-H112 to give you a better idea of what to expect:
12,000 BTU Heating Capacity
11,500 BTU Cooling Capacity
SEER Rating of 23
HSPF factor of 10
Cooling Capacity for a room size of up to 600 square feet
Toshiba Inverter Compressor
3 Cooling Speeds
3 Fan Speeds
Dry Mode for moisture removal without affecting temperature
Cross Flow Technology for Noise Output Reduction
Compatible with Over 5 Filtration Medias
Freon Leak Detection Notification System
Low Ambient Temperature Operation of 5 degrees Fahrenheit
Two-Direction Air Vane for Even Air Distribution
Restart IC
Follow-Me Function for Remote Location Tracking
Auto Thermostat
Golden Fin Housing
Self-Cleaning Capability
Eye Detection
Auto Oscillation
Program Memories
Sine Wave
1-Watt Standby
Quiet Operation
Sleep Mode
Long Pipe Length
Error Notification
Auto Fan
Independent Humidity
Auto Defrost
Trapeziform Copper
Turbo Mode
Moisture Removal of 1.2 liter/hour
Minimum Operating Temperature of 5 degrees Fahrenheit
Durable Equipment
Flat Panel
24-Hour Timer
2-Way Air Discharge
Slim Air Handler
Various Types of Filters –
Comes with an Easy 16-feet Installation Kit
Energy STAR Certified
AHRI Tested
Pre-charged with Eco-Friendly R-410A Refrigerant
Digital Multi-Function Full-Access LCD Remote Control
1-Year Warranty on Parts
5-Year Warranty on Compressor
Indoor Unit – Handler
Outdoor Unit – Compressor
Pros
Solidly recommended by critics and customers who have tried and used it, the Thermocore Systems T123S-H112 continues to top the rankings. It is more than just a trend. It is an excellent product that just would not disappoint expectations no matter how high it is.
Check out these numerous key features of the Thermocore Systems T123S-H112:
Energy Efficient
We have already mentioned this above and we cannot get enough of it. This Thermocore Systems T123S-H112 mini split air conditioner saves energy through two things – being ductless and being a DC inverter. First, it minimizes wasted energy as there are no ducts from which the air can escape. Therefore, there is concentrated air which paves way for better and faster cooling.
Second, the DC inverter features a controlled compressor which basically maintains precise control of room temperature. As a result, one not only gets to save energy but comfort is truly optimized. With this air conditioning unit, temperature remains the same for as long as it remains turned on. There will be no hot minutes and cold minutes that we all know are quite bothersome.
In addition, DC inverters are famous for their low-frequency operation which reduces energy waste and therefore, makes the product highly efficient.
Easy to Use and Complete Installation Kit
Are you worried about installing this Thermocore Systems T123S-H112? Have you had any experiences with installing split air conditioner systems before or is this your first time? If it is your first time, then you would be delighted to know that this comes with its own installation kit (tips here).
Here are the things you can find in it:
16-feet flared copper tubing
16-feet pipe insulation
16-feet electrical wire harness
Drain Pipe for outdoor
Wall Cross Piping
Binding Belt as a Catchment Trough
Mounting Bracket for Indoor Unit
Wall Hole Block Putty and Insulated Tape
Instruction Manual
If you have basic knowledge with regards to installing air conditioning systems, then the better you can get a grasp of how exactly to do this. However, if you happen to have zero idea as to how to install such units, then maybe it would be better to get the help of a professional.
Wide Filter Choices
The filter that comes standard with the Thermocore Systems T123S-H112 is the particle filter. This acts as a "pre-filter" that removes the dust and other air-borne pathogens before pushing the air inside the unit. This acts as the primary filter before the air goes through the filtration media and refrigeration coil array. This standard filter is washable and comes installed already.
However, if you want more feature-rich filters, Thermocore Systems has several options for you.
Check these out:
3M HAF Filter – This High Air Flow Filter offers low initial airflow resistance. It also has a microstructure and electrostatic charge that improves particle capture and retention.
VIT-C Filter – This kind of filter releases Vitamin C into the air which softens skin and is said to reduce stress.
SILV-Ion Filter – This features an anti-microbial effect through its silver ionic technology that kills allergy-causing bacteria. It does not just directly eliminate the bacteria but even prohibits it from replicating.
Carbon Filter – This is famous for eliminating odors such as ammonia and even deactivates harmful chemicals such as formaldehyde. In addition, this can also prevent allergic reactions and neutralize odors in the air.
Cons
A few might have some complaints about the expensive price but time will prove that this is right choice. If you want to make the best investment for your family with regards to the air they breathe, the Thermocore Systems T123S-H112 air conditioner is still by far the most practical choice.
Final Verdict
If there is a workhorse of an air conditioning system that got almost instantly famous the moment it was released, it would have to be the Thermocore Systems T123S-H112 air conditioning system. Critics say that its most important ingredient is the unequaled innovation.
Inverters are becoming more and more famous because of their unquestionable efficiency when it comes to saving energy consumption by keeping it to a minimal amount. Yes, inverters cost more. Take this Thermocore Systems T123S-H112 for example. It currently retails for about $1,299 at Amazon but if you are to compute the amount you will save as years go by, you still save more using this specific product.
Experts explain that ductless systems cost more because less energy is wasted, as there are no ducts where the air can escape. On the other hand, inverters cost more because it is basically a more intelligent system that monitors room temperature and adjust compressor speed accordingly compared to ordinary conventional compressors that simply turn on and off every after a few minutes causing use of more energy in the process.
Would you even believe that among the customers who have bought this Thermocore Systems T123S-H112 ductless mini split air conditioner system no one has had problems or encountered anything to complain about as far as features and efficiency are concerned?