As an Amazon Associate, we earn from qualifying purchases. This is without any additional costs for the buyer but does support us in maintaining our website.
A fireplace is a very American tradition. Nothing compares to that feeling of sitting by the hearth on cold winter nights with a cup of cocoa on hand and the company of friends and family; it's that comfy and laidback.
However, this architectural structure has its disadvantages too. On one hand, it's a culprit for heat loss and on the other hand, it can be too expensive to put up with. But there is one solution for this dilemma if you do not want to give up on building a hearth just yet, and this item is called the fireplace insert.
What is a fireplace insert? It is a fire-proof box that is enclosed by cast iron or steel and bordered with insulated glass. This product builds a sealed combustion system, with the cast iron or steel shutting heat inside.
Several kinds of inserts include a blower which shoves hot air to move back into the room by means of its front vents. Once mounted in the proper manner, the item can become a very competent heater as compared to a standard hearth. It can be operated with coal, gas, electricity, propane or wood.
This article will discuss the basics of the electric fireplace insert, one of the most efficient inserts produced today.
Electric Fireplace Insert Basics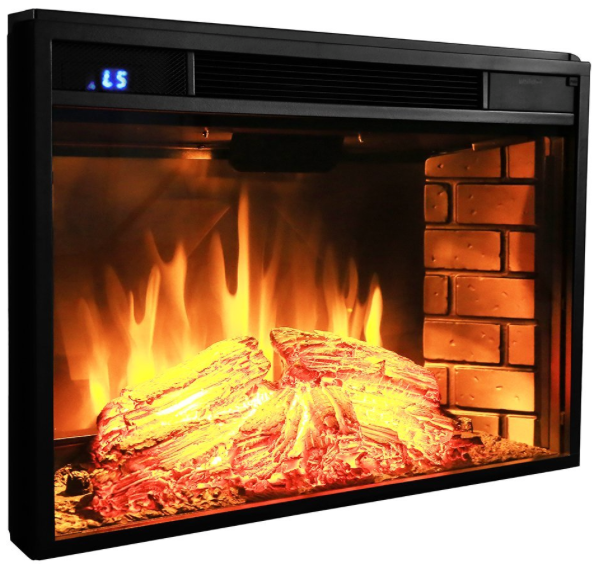 This plug-in kind is so far the most straightforward to use. There is no combustion required to make it operate and it does not need the help of venting as well. You don't have to get a permit to use this either.
It comes with a small heater and once it is turned on, you can witness its reflective, blinking lights create the flame simulation. The flame size and intensity can be adjusted and it can also be operated with or without the heater.
It can be mounted easily and all it requires is for the item to fix itself properly into the fireplace gap. The costs of using an electric heater will often rely on your electricity rate.
However, there is a difference between this item and the electric fireplace. The latter is manufactured as a whole unit which includes a mantle. Inserts have similar parts as a standard electric fireplace and their parts and procedures function in a similar manner as well. There is no distinction between the units of power generated these appliances can give out though.
One good thing about the item though is it acts as an excellent substitute to your standard wooden kindling, but with greater benefits; you do not have to worry about ventilation or maintaining the flue. In addition, if you want to see a genuine fire in place of a simulation one, you can remove the insert at all times and produce an old-fashioned fire with the wood.
The item comes in a variety of designs, so if you decide to buy one, you can take your pick on a design which suits your living place's interiors. If you want something minimal and chic, you can always go for an item with an all-black design. If you are into shiny stuff, a product made out of chrome will definitely suit your aesthetic preferences while the brass type will cater to antique lovers.
Benefits of Using an Insert
A traditional hearth can be a burden because of the expensive maintenance it requires and it can cause air pollution as well. Installing a fireplace insert is one efficient means to elevate its appearance and at the same time, its functions by making it a dependable complementary source of heat.
Here are some of the benefits it brings:
There is no combustion needed, hence cleaner surroundings will be had. In addition, you do not have to gather firewood just to keep the fire burnings and you do not need to clean up chimneys as well. Majority of electric fireplaces only require a minimum of dusting and tidying up the firebox glass.
Diminishes cooling and heating costs
Since it can plug up your fireplace, no heat or cool air will be able to escape from the hearth by means of the chimney. Its doors can also prevent the occurrence of down-drafts brought about by elevated winds from carrying the outdoor air inside throughout the chimney.
Maximizes heating capabilities
Additional heat can be upgraded by means of the product. The door of the insert for example, which is locked air-tight, permits the fire to smolder in a drawn-out manner at greater temperatures, resulting into bigger productions of heat. Several kinds of this item also come with a blower to lend a hand in aiming the emitted heat back within the room.
The electric insert meanwhile, can be operated with or without the heat, which makes it a versatile product you can use all year-round.
Makes the fireplace more decorative
There was a time when the item's appearance was rather unimaginative and boring; it was just a sizable, clumpy box of cast iron which looked unsightly placed inside the hearth. These days, consumers are most likely able to pick a model which suits their visual preferences.
An insert like the electric fireplace kind brings inserts to a whole new level by means of LED logs which feature flickering embers to provide an excellent simulation of traditional fireplace flames. Now you do not have to worry about ashes, air pollution, ventilation or cleaning chimneys.
Setting the item up is pretty basic. You do not need to have handyman skills on hand to mount it. All you have to do is plug the insert inside a conventional 120-volt socket and put it in the center of your hearth.