As an Amazon Associate, we earn from qualifying purchases. This is without any additional costs for the buyer but does support us in maintaining our website.
The LG Electronics LW8014ER Energy Star window-mounted air conditioner is another innovative technology that is set to make every user's life easier and better.
As per LG's recommendation, this unit is perfect for small rooms up to 340 square feet because of the 8,000 BTU. Now that can easily pass for a moderate-sized room which is another reason why you should never underestimate this air conditioner or the other models for as long as it bears the brand LG.
LG Electronics LW8014ER Energy Star Window-Mounted Air Conditioner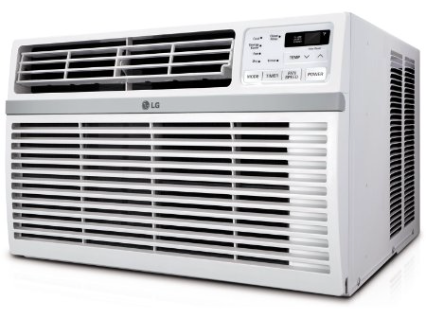 Click Here for Customer Reviews
Specifications
LG air conditioners have always featured innovative technologies along with a modern and stylish design which makes it a common favorite today. More than just keeping rooms cool on summer days or warm on cold winter nights, the LG Electronics LW8014ER works properly to ensure every user gets the satisfaction they deserve.
To know more about this state-of-the art air conditioner from LG, here are its specifications:
8,000 BTU Window Air Conditioner
Easy Installation Kit Included
Suggested Coverage Area max of 340 square feet
Uses standard 115-volt Electrical Outlet
2014 Energy STAR Efficient
3 Cooling Speeds
3 Fan Speeds
Auto Cool Feature
4-Way Air Deflection
Energy Saver Function
Digital Electronic Touch Controls
24-Hour On/Off Programmable Timer
Stylish Remote Control with Thermistor thermostat
Washable and Reusable Air Filter
Automatic Restart After Power Failure
Controls Humidity – Dehumidification up to 2.2 pints per hour
Top Down Chassis
Filter Light Reminder
Energy Efficiency Ratio of 11.3
Uses Eco-Friendly R410A
Gold-Fin Anti-Corrosion coating
1-year Limited Labor and Parts Warranty with In-Home Service
Alkaline Battery Type
Measures 19.4 x 19.6 x 12.4 inches
Weighs approximately 57 pounds
Why More and More Customers Are Getting this LG Electronics LW8014ER window-mounted air conditioner:
With an accomplished 4-star rating after having been reviewed by more than 100 customers who bought it, the LG Electronics LW8014ER is without a doubt a great window-mounted air conditioner. It is not as expensive as the other air-conditioners are in the market today yet it does not come short of wonderful features.
In fact, it even comes with a whole lot of features that you think you would only otherwise get from the expensive brands.
Pros
Here are some of the strong features of this window mounted LG Electronics LW8014ER:
It is impressively quiet
Sound has since been one of the major factors that consumers consider when looking for an air conditioner. This is totally understandable as air conditioners are supposed to give you and the rest of the household more comfort and not be the cause of why you cannot sleep at night or any given time of the day for that matter.
With this LG Electronics LW8014ER, it is said to be quieter because of the 8,000 BTU (BTU explained here). If compared with an air conditioner with 12,000 BTU, then the lower BTU automatically is quieter. However, when several customers did compare this to other 8,000-BTU units, this still remained the quieter one.
There is still a bit of noise that you can hear but it is the type that we can consider white noise. It is smooth and mellow that almost lulls you to sleep.
The Features are Exactly as Advertised
In the midst of all the misleading ads of even the most famous air conditioner brands, this LG Electronics LW8014ER sticks to what it is without any sugary-powdered coatings. It works exactly and excellently as advertised and stated in the manual. It cools the room extremely fast most especially given the fact that this is recommended for small rooms only. The controls are extremely easy to use and the remote control is a definite bonus.
The filter is another great story to tell. It is very easy to get out and put back in. Cleaning is easy breezy as you can wash it even in the kitchen sink without any problem. Best part is this can save you hundreds of dollars since the filter is totally washable.
It has a Durable Design
More than just promising to last long years of being efficient and looking good, this LG Electronics LW8014ER is built tough but environment friendly. Given that this is an Energy STAR qualified product, it only means that this unit prevents greenhouse gas emissions as is clearly stated in the U.S. Environmental Protection Agency and U.S. Department of Energy.
Cons
Despite the LG Electronics LW8014ER Energy Star Air Conditioner being an outrageously great air conditioner, people have bought up several concerns that might be of interest for the future buyers.
Most of the customers who already have this say that this is the best one they have had in ages. As a matter of fact, some replaced their Frigidaire for this one and they do not regret a single moment of doing so.
However, some have complaints with the Energy Saver Mode as the 30-40 second cycle can be quite irritating especially for those who can notice it. Sadly, most can notice the cycle despite the compressor being the best there is.
Final Verdict
Click Here for the Price!
Right from the start LG has always been devoted to their goal of creating small home appliances that can lead to a happier and better life. From being established in 1958, the company continuously made use of digital advancements and incorporated it into their products. From their radios to televisions and even to their air conditioners, LG continues to prove their longtime commitment to its loyal consumers.
The LG Electronics LW8014ER undoubtedly one of the more solid performers among the window-mounted air conditioner segment today. It is highly efficient as it offers quite a wide variety of cooling and warming options for the users.
It is pretty affordable most especially given the durability you are bound to get yet does not sacrifice anything for the price. The unit is downright attractive and it operates quietly.