As an Amazon Associate, we earn from qualifying purchases. This is without any additional costs for the buyer but does support us in maintaining our website.
The Luma Comfort EC 110S portable evaporative cooler can control the temperature of a room up to 250 square foot. It is a great alternative for air conditioner and is ideal for your room or office.
Luma Comfort EC 110S Portable Evaporative Cooler Review
Click Here for Customer Reviews
Specifications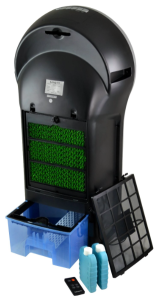 It's amazing how technology has evolved; take for instance how humanity progressed from using paper fans, to electric fans, to air conditioners and joining the roster of discoveries that alleviate the body heat- evaporative coolers.
What is an evaporative cooler (wiki)? Also known as desert cooler, wet air cooler and swamp cooler, this device cools air through evaporation of water. Cooling through evaporation is different from the usual air conditioning system that uses vapor-compression absorption refrigeration cycles.
Evaporative cooling works through employing water's large enthalpy of vaporization. Temperature of dry air drops significantly through phase transition of liquid water to evaporation, which can cool air using less energy than refrigeration.
Evaporative cooling depends upon wet bulb depression, which is the difference between dry-bulb temperature and wet bulb temperature. Passive evaporative cooling system offers the same benefits of mechanical evaporative cooling systems without the complexity of equipment and ductwork.
There are so many things to love about the Luma Comfort EC 110S. Here are the specifications and features for you to appreciate:
Features energy efficient cyclonic cooling technology
Delivers 500 CFM at 1 ampere
3-speeds and wind modes
Removable water tank
Can cool up to 250 square feet
Very economical at 110 watts
Includes remote control plus a programmable timer
With auto on and off feature and digital display
Comes with washable filter
Features a large capacity tank holding approximately 1.76 gallons
Includes a evaporator water tank along with low water level indicator
500 cubic feet/ minute maximum air flow
Pros
Cool down in the heat with the portable Luma Comfort EC 110S. You are in for a treat with this evaporative cooler with its long list of benefits.
It provides you with the best comfort
As the name implies, the Luma Comfort EC110S aims to give you the most comfortable cooling system. Even during hot and humid weather, you can still be cozy thanks to this evaporative cooler. It works pretty well for a cooler because it can bring down the room temperature at 5 degrees and cools well with ice even though it doesn't have a compressor.
It is eco-friendly
A swamp cooler is energy efficient and makes you save up to 70% of your electric bill when compared to using conventional air conditioning. This means you can cool down without burning a hole in your wallet.
It features an energy saving timer for your convenience
The Luma EC110S allows you to use a programmable timer so you don't have to wake up in the middle of the night just to adjust the temperature. It assures you of a good night sleep because of its low noise level.
It is very portable
Powerful yet mobile- the portable Luma Comfort EC110S is easy to use as you can move it around. It is easy to install and ready to use. You just need to refill a few times because it has a large water capacity tank and it utilizes small quantity of water.
It requires low maintenance
Once the water tank is filled, the cooler can last up to 10 hours. It can cool around 250 square feet of space with 500 CFM. You don't need to call the technicians to clean it as you can just do the cleaning yourself. You also save some extra bucks since you will not need the services of an AC cleaner.
Enjoy hassle-free installation
One of the things that is so brilliant about Luma Comfort EC110S is that you don't need to hire someone to install it for you because it doesn't need special installation and no drilling on the wall. It can suit anybody's busy schedule. See the manual for the quick preparation before use.
It's all about practicality
Luma Comfort EC 110S Portable Evaporative Cooler is a practical option because it is affordable. You can easily save to get this cool Cooler. The operating cost is quite minimal because it does not consume so much electricity.
Luma Comfort is a trusted brand
Luma Comfort is a brand that ensures that its' products pass customer satisfaction. It has built its' name through innovations and is known to create premium products.
Cons
Although there are many things to love about this evaporative cooler, some people who have purchased it have experienced that the cooler doesn't work and it's just the fan blowing so that there was no drop in the temperature of the room and even raises the humidity level. The water pump is also an issue to some since it has failed just after a few weeks of use.
Final Verdict
Click Here for the Price!
If you are searching for a cooling system that is amazingly durable, sleek and stylish, super-efficient and at a reasonable price, then Luma Comfort EC 110S portable evaporative cooler is for you. It can be your partner doing those hot, humid summers without the high electric costs that come when using air conditioners.