As an Amazon Associate, we earn from qualifying purchases. This is without any additional costs for the buyer but does support us in maintaining our website.
Great for indoors and enclosed areas, this Flat Panel Halogen Heater CZHTV9 by Comfort Zone will make you warm without toasting you up. It provides just the right, safe, and efficient heat without the crazy expensive electric bills. This one even lets you save electricity with its quiet operation and automatic overheat protection system.
With its slim space saving and contemporary design, the CZHTV9 model will look absolutely good anywhere. It even features a 70-degree automatic oscillation making sure that the heat is evenly distributed and has a power indicator light.
If you are worried about the noise that other heaters are notorious for, you would be delighted to know that this particular halogen heater operates quietly making it even more perfect anywhere inside the house.
Comfort Zone Flat Panel Halogen Heater CZHTV9

Click Here for Customer Reviews
Specifications
It is a top-mounted control panel heater
Flat Panel Halogen Heater
70-degree Automatic Oscillation
Slim-line Twin Tube and Design
Power Indicator Light
Durable Metal Housing
Stay-Cool Body with Built-In Handle
Safety Tip over Switch
Power: 120V AC
BTU Output: 2.730
Watts: 400/800
ETL Approved
Measures 12" W x 23" H x 6.3" D
Item weighs only 6 pounds but shipping weight is 24 pounds
Comes with 1-year manufacturer warranty
The CZHTV9 model is the best-selling halogen heater as it continues to prove that it is a must-have product for every home. You and your family and friends can continue to enjoy movies or games without being bothered by any noise coming from the heater.
Given that this features a 70-degree oscillation, it provides better heating and allows warm air to flow around the room for a more consistent temperature. The durable metal housing, on the other hand, makes sure that this heater will last for a long time. In addition, this flat panel halogen heater is carefully designed with safety in mind as it has a stay-cool body which prevents burns if someone accidentally touches or brushes against it.
Advantages
There are a lot of reasons why the CZHTV9 sells out very fast. Here are some of them:
It works just like an electric fireplace but totally movable.
It has a small footprint and does not take so much space.
It works quietly.
It is quite tall at around 2 feet so it is able to heat up from head to toe.
It is energy efficient with two heating level options – 400 watts and 800 watts.
It is highly durable with its metal housing so it would not easily be broken if accidentally knocked down or spilled over.
Disadvantages
There really are not a lot of disadvantages for this flat panel halogen heater model but here are some of what customers think could be improved:
The lights are too bright.
It weighs too light and can easily be knocked off.
Final Verdict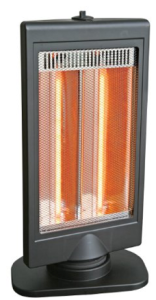 Click Here for the Price on Amazon!
At its price of just around $50, this is a very small price to pay given all the advantages and comfort it brings. It can literally be put anywhere and provides warmth whenever and wherever you need it. Taking all these into consideration, it is no wonder why the Flat Panel Halogen Heater CZHTV9 by Comfort Zone is America's heating and cooling choice for many years now.